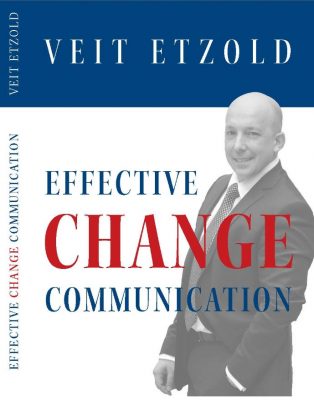 Effective Change Communication
The ability to change and adapt has become more and more important for organizations in recent years. The reality is, however, that any business seeking to survive in a VUCA world must master the accompanying challenges: digital transformation, changing customer behaviour and more. Moreover, the success of any new strategy depends on successful storytelling. Only with the right communication is it possible to get all stakeholders in a company – from the body of employees to the board of directors – pulling in the same direction and realising the necessary changes with full force.
This guidebook explains why people are naturally averse to change, how to develop a clear change strategy, how to find the right story for the right stakeholders and how to use metaphors to bring a story to life and convince your audience.

Equity Storytelling
Investors pay more for a company.
When they buy its story.
This book shows you how to tell a compelling equity story.
Equity Storytelling uses the tools of storytelling in the context of venture capital, M&A and private equity.
The two authors and storytelling consultants Veit Etzold and Thomas Ramge will teach you:
1.Recognizing potentials for giving the firm a unique positioning.
2.Moulding disparate facts and story elements into an exciting story
3.Telling the story to the addressee (investor) so that he "buys" it.
Or to put it short: think – tell – sell
May the villains in search of capital die the death by PowerPoint. Heroes tell equity stories with the tools of storytelling. Then the story becomes the $tory.
To Tell is to Sell.
More Articles
Publications – Banking und Finance
Waltraud Ziervogel at Konnopke's Imbiss -Re-Inventing a Berlin Icon
Der weiße Hai im Weltraum – Storytelling für Manager
Equity Storytelling – To tell is to sell
How do you convince the customer?
Die Billionen-Schuldenbombe(The Trillion Debt Bomb)
St. Paul as a Sales Strategist
Power Plays – Shakespeare and Leadership
Jaws in Space – Why Storytelling is important and what managers can learn from bestsellers and movies
Planning, Explaining and Executing Strategy –
The Emperor Is Naked, Part 1 –
The Emperor Is Naked, Part 2 –
War for talents meets facial expressions –
Greedy or fearful: Is investor's sentiment at a turning point? –
Equity Storytelling – To tell is to sell –
Publications for IESE Insight:
With Dr. Philipp Wackerbeck, Partner Financial Services, Booz & Company and Prof. Alberto Ribera, IESE Business School: "Islamic Banking: Dawn of a New Era", IESE Technical Note, Februar 2011 pdf
With Dr. Philipp Wackerbeck, Partner Financial Services, Booz & Company and Prof. Alberto Ribera, IESE Business School: "Soul Searching after the Crisis – Islamic Banking Lessons fort he Financial Sector", IESE Insight Magazine, Juni 2011 pdf
With Dr. Philipp Wackerbeck, Partner Financial Services, Booz & Company: "Going West, again: The New Offshore Opportunity in the Arab World", European Financial Review, März 2012 pdf