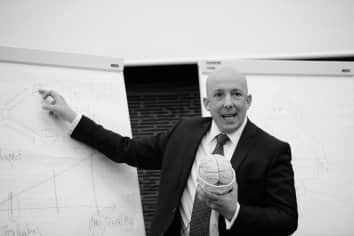 The world has a problem. Most companies are failing or struggling in three aspects of their strategy: the strategy itself, its effects and its implementation. Where are the failings? The definition of clear goals, the explanation of how the strategy works and, ultimately, putting the horsepower on the road. In brief, when the strategic idea fails, so does its impact and implementation. And this makes it one of the biggest challenges facing global managers.
In his keynote and lecture, Prof. Dr. Veit Etzold shows how managers can bring together these three issues, develop a holistic corporate image and create a 'change story' that will be easily understood by everyone and sustainably implemented.
Veit Etzold demonstrates how the story of a strategy can travel from the top floor of a Frankfurt skyscraper to the last shelf of the assembly line of an Indonesian packing station and still be the exact same story.
The lecture shows the best way to develop clear corporate goals and strategies, how to communicate them over the long term and how to anchor them effectively in the company with measurable results.