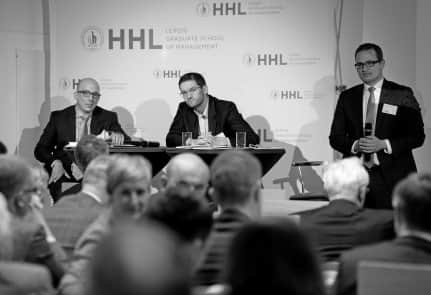 For
Investment bankers, private equity managers
Executives in corporate strategy departments and investment relations departments, managers planning IPOs or looking for new investors
Consultants advising Venture Capital and Private Equity firms on the purchase and sale of companies
Founders and CEOs of start-ups
Duration: 1-2 days
In no other context are stories more valuable than in venture capital, private equity, M&As and IPOs. For those who want to sell a business, it is worthwhile getting to grips with the techniques used by the people who actually make a living from selling stories. In other words: writers of novels and crime thrillers, scriptwriters, biographers and journalists.
Therefore, it is even more surprising to see that many equity sellers don't use storytelling for their purposes.
The workshop is structured in three parts:
Think
In Part I, we do the analytical homework together. The goal is to create the content base for a good story. We give you the tools to help you classify and position your company, and then uncover the appropriate story elements. We are looking for a narrative understanding of the company itself, its founder, its business model and its products and/or interaction with the customer. We are also is positioned against the competition, which, in good storytelling tradition, we prefer to call 'the enemy'.
Tell
An equity storyteller is not unlike a novelist: you need interesting protagonists, story anchors, suspense arcs and cliff-hangers. If you are tracing the development of a young talent into a mature hero and don't forget to describe how the villain was defeated, you will certainly get the attention of the potential investor.
Sell
Unfortunately, a wonderfully designed equity story loses its value when the founder/CEO/Head of Communications, tells it badly. The experience of our consulting projects shows again and again: when it comes to presenting, most founders and business decision-makers are likely to be self-taught.
A few rules and presentation exercises can quickly improve your performance as a storyteller in individual interviews, small groups or large auditoriums. The Sell part of the workshop is a crash course in contemporary presentation techniques. Many tools from the TED Talks repertoire will play an important role. In the ideal case, equity storytellers forgo the use of slides in pitch situations – but trust in the power of words, use drawings on a flip chart to illustrate ideas and stage memorable moments with tangible props.
Equity Storytelling is also offered with the creative duo of Veit Etzold and Thomas Ramge and is based on the book of the same name by Etzold and Ramge, published in March 2014 by Springer.
The corresponding book is also available in English via Kindle direct.